Back before we knew we were moving I really wanted to get the girls a playtent. A friend of Audrey's has one that just pops up and is quite large - three preschoolers can fit in it with some toys. Unfortunately at the old house we just didn't have room for one. So when we found out we were moving I said that was one of the things that I wanted to get the girls for Christmas. Well between Derek losing his job and the other things we wanted to get the girls, it got passed over. Then my sister asked us what the girls wanted for Christmas and we told her. So she very generously got this for the girls:
Unfortunately it required assembly (so not a pop-up) and it was not as large as it looks. The girls could both fit in but the way they moved around made it fall over (no bottom to the tent). So we decided to take it back and with the girls Christmas money upgrade to a larger pop-up style tent. So we went to Target and found this Dora tent: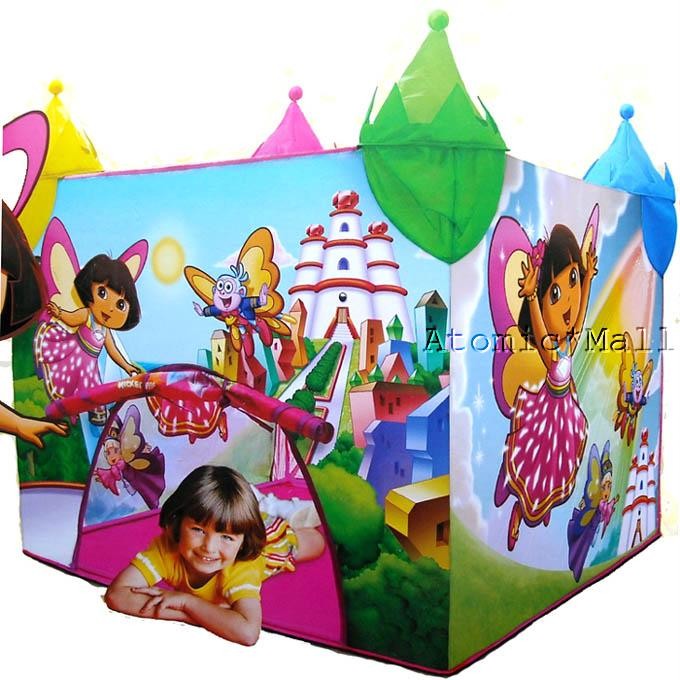 It was much larger and had a floor to it. However, it required A LOT of assembly and within 24 hours one of the poles inside bent. We were very displeased with this. So we took it back. So we decided to look around at other stores. We checked out Wal-mart, Ross, TJ Maxx, and various places online. We finally found one that we liked online at Target.com but it was out of the price range for the girls at $40+shipping as it is only on the website. With Derek not working we decided it was going to have to wait.
So we were at Target last night just walking around and we walked back to the seasonal section. There was a play tent, teepee style, in with the gardening stuff for kids. I scoured the box for anything that said "assembly required" and I also looked to see how many pieces there were. After finding nothing alluding to assembly and seeing it say not only, "folds for easy storage" but also, "2 pc set that includes tent and storage bag". I was stoked. It was only $25 and it seemed to have everything we wanted in a play tent.
This is the tent:
This is the box (says the same thing on all sides):
I mean if it needed to be assembled there would be more than two pieces, right? And if there were tent poles it would also make sense that there would be more than two pieces, right? WRONG!!! Not only does it need to be assembled but it has EIGHT poles. Ugh. I do have to say that it is the easiest to assemble so far but it is still not what we wanted and I am SO frustrated. Plus, I went ahead and told the girls we bought it because I was so sure it was a pop-up tent. So now I am not sure what we are going to do about it but I am irritated. Okay, that's the end of my rant! :)